here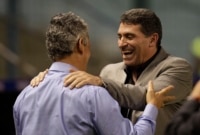 UPDATE: This year, it looks like Reinaldo Rueda might be leading Ecuador to the second round. After beating Honduras 2-1, Ecuador is in second place in Group E; Honduras, meanwhile, is in last place, having yet to win a match at the 2014 Cup.
Teams don't get much more intertwined than Honduras and Ecuador, who have met 14 times in competition. This is perhaps most apparent with their coaches. In 2006, Luis Fernando Suarez led Ecuador to the second round of the World Cup, while Reinaldo Rueda coached Honduras in the 2010 World Cup.
This year, they've switched: Suarez is the coach for Honduras, and Rueda coaches Ecuador.
How will Suarez and Rueda do against their former teams? Find out at 6 PM ET (10 PM UTC).
For play-by-play, minute-by-minute coverage of every ball touch, throw-in, direct kick, indirect kick, yellow card, red card, corner kick, goal kick and every other possible football feat in every World Cup match, tap into VOA's multilingual, multinational analysis.
Click here to follow the action live, or follow along on Facebook, or on Twitter with #WorldCupVOA.
And for even more exclusive VOA coverage with a special focus on Africa's national teams, check out VOA's Francophone blog.