After nearly a month of non-stop soccer, the 2014 World Cup championships are in sight. Four teams in particular have their eyes on the prize: Argentina, Brazil, Germany, and the Netherlands – the last four teams left.
Obviously, all four are playing to win. But what's their motivation? What are the specific elements that are pushing them towards a win?
Brazil: Win for Their Country

Brazil is the most successful country in World Cup history, winning five titles since 1958. But perhaps the most memorable Cup for Brazilians is one they didn't win – in 1950, when Brazil last hosted the World Cup, the home team lost to rival (and neighbor) Uruguay by 2-1. Over 60 years later, the Cup is back on Brazilian soil – and Brazil is hoping it can win the title on home turf.
Germany: Close it Out

The last three World Cups have not been kind to Germany. In 2002, they were the runner-up to Brazil. In 2006 and 2010, they came in third place, losing to eventual champions Italy and Spain (respectively) in the semi-finals. This year, Germany is hoping to break that streak, and break the conception that they're always a World Cup bridesmaid, never a World Cup bride.
Argentina: Do It for Messi

Lionel Messi is arguably the most popular and successful soccer player in the world today. But with all of the titles, the awards, the praise, there's one prize that's alluded him: a World Cup title. A contender for the Golden Boot award, given to the player who scores the most goals, Messi's surely hoping to score not only the award, but a title for Argentina.
Netherlands: Avenge their Loss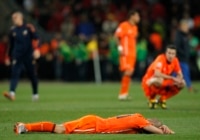 The Dutch came within one match of winning the 2010 World Cup, falling to Spain in the final 1-0. But with the defending champions knocked out in the group stage of this year's Cup, the Dutch are hoping that they can avenge their loss and finish the job they couldn't four years ago.