Even though the US lost to Belgium 2-1, there was arguably one US player who came out of the match a winner: goalie Tim Howard.
Howard's impressive play against 27 shots on goal – the most faced by a goalie in the World Cup in nearly 50 years – earned him fans both in the US and abroad. And it earned him a World Cup meme of his very own: #ThingsTimHowardCouldSave.
Naturally, Howard was inserted into other World Cup scenes (and inspirations for memes):
Could Tim Howard have stopped Suarez's bite?


Perhaps he could have stopped the Netherlands' Arjen Robben from taking a dive.


Or Maradona's famous "Hand of God" goal.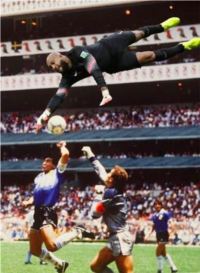 Howard makes appearances in other sports, too:
#ThingsTimHowardCouldSave … @NickKyrgios' return. pic.twitter.com/TO7cGlbxfn

— Wimbledon (@Wimbledon) July 2, 2014
But he's not only limited to athletics – Howard is seen making historical saves:
Howard saves the Titanic.


Keeping the Leaning Tower of Pisa from falling.


If only Tim Howard was around during prehistoric times.

And pop culture saves – think of the movies that would've been changed if Tim Howard was in them:
He could've saved Private Ryan.


Bambi would've been a very different movie if Tim Howard was there.


Star Wars too.


With Tim Howard around, it's safe to go into the water again.

But perhaps the best thing to come out of this meme for Howard? If he ever decides to retire, he'll have other career options: