here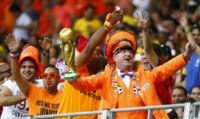 Top: Tony Gentile | Reuters; Bottom: Pilar Olivares | Reuters
UPDATE: As expected, the Dutch were able to notch another win, taking down Australia 3-2. With a win or draw by Chile against Spain, the Netherlands will be into the World Cup Round of 16.
Previous post:
Via VOANews.com:
Three days ago, when the Netherlands and Australia last met in a competition, Australia not only came away with a 6-1 victory, but a championship trophy as well.
That competition? The Men's World Field Hockey Championships.
But the World Cup is a different story. The Netherlands looks to add to the three points it earned in crushing Spain on Friday, as it takes on Australia, the lowest-ranked team in the tournament. Odds are the Dutch will prevail, but the only way to know for sure is to check out the match at 12 PM ET (4 PM UTC).
For play-by-play, minute-by-minute coverage of every ball touch, throw-in, direct kick, indirect kick, yellow card, red card, corner kick, goal kick and every other possible football feat in every World Cup match, tap into VOA's multilingual, multinational analysis.
Click here to follow the action live, or follow along on Facebook, or on Twitter with #WorldCupVOA.
And for even more exclusive VOA coverage with a special focus on Africa's national teams, check out VOA's Francophone blog.