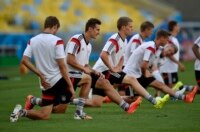 If you're looking to pick the winner of this year's World Cup, look no further than Germany.
Well, don't look at Germany – look at who they're playing.
In the past three World Cups, Germany has lost in the knockout round to the eventual winner: in 2002, they were runners-up to Brazil in the final; in 2006, they lost to Italy in the semifinals; and in 2010, they lost to Spain in the semifinals.
Given their track record, a loss by Germany today suggests that Brazil will win the title. Meanwhile, if Germany wins, look to the winner of the Argentina/Netherlands match to win it all.
…unless, of course, Germany can break their losing streak – as we noted yesterday, it's up to the Soccer Gods.