here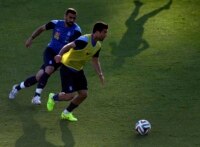 With Colombia and Cote d'Ivoire rounding out Group C, there's little doubt that the loser of today's Japan/Greece match will be eliminated from the World Cup. And a draw between the two teams will likely eliminate both of them from contention.
But a win today is no guarantee, either: if Japan wins, they'll still have to beat Group C favorite Colombia in a tough match. If Greece wins, they'll have to get by a tough Cote d'Ivoire squad.
Who will make it out alive: Japan, Greece…or neither? Find out when they face off today at 6 PM ET (10 PM UTC) in Natal.
For play-by-play, minute-by-minute coverage of every ball touch, throw-in, direct kick, indirect kick, yellow card, red card, corner kick, goal kick and every other possible football feat in every World Cup match, tap into VOA's multilingual, multinational analysis.
Click here to follow the action live, or follow along on Facebook, or on Twitter with #WorldCupVOA.
And for even more exclusive VOA coverage with a special focus on Africa's national teams, check out VOA's Francophone blog.