The last pass has been kicked, the last goal has been scored, and the trophy has been awarded to the victor, Germany. We know who won the matches, who won the awards, and who won the Cup. But who were the people, on and off the field, that had a World Cup to remember…or a World Cup to forget?
VOA breaks down the real winners and losers of the 2014 World Cup:
Winner: Adidas
There was a lot of talk this World Cup – including on this blog – about Nike's move into the world of soccer traditionally dominated by Adidas. Well, after all the matches, not only where both finalists Germany and Argentina sponsored by Adidas, but so are Golden Ball winner Lionel Messi of Argentina, Golden Boot winner James Rodriguez of Colombia, and Golden Glove winner Manuel Neuer of Germany. Even the game ball was made by Adidas. Nike may have made some inroads at the Cup this year, but clearly, Adidas still has its hold on the World Cup.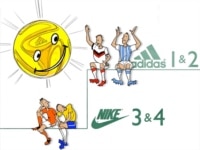 Illustrations by Steve Fuchs
Winner: The Meme Makers

There were no shortage of memorable moments in this year's World Cup, from van Persie's header to Tim Howard's saves, and from Robben's dive to Suarez's bite. No matter what the event, within minutes, the hive mind of the Internet created memes shared around the world, from the "Flying Dutchman" van Persie gliding over Rio, to Suarez in a mask a la Hannibal Lecter from Silence of the Lambs.
Winner: The Lucky Betters
Brazil certainly didn't expect to get blown out 7-1 in their semifinal match against Germany. But a few faithful fans did, and as a result, were handsomely rewarded. One man in London bet £5 on Germany winning the match 7-1 after having a "premonition" the day before the match; sure enough, he was right. The winnings from his lucky bet? £2,500. But that wasn't even the biggest payoff: one lucky Dutchman put down a €200 bet on Germany winning 7-1, and won € 1.3 million. Perhaps the best part is that he didn't even mean to place the bet – as the man told German newspaper Algemeen Dagblad, the bet "was made during a too alcoholic party."
Winner: VOA's World Cup Correspondent Nicolas Pinault
https://www.youtube.com/watch?v=MHimYlRr8g8
The video says it all.
Loser: Brazil's Poor

Many already considered Brazil's poor to be the biggest losers from this World Cup, with billions that could have been spent on infrastructure and public services going towards stadiums and hotels. After Brazil lost in the semifinals, these feelings must have been even stronger: not only did the country spend all of that public money, but they couldn't even win the championship that everyone expected they would. When Brazil couldn't even muster a third place finish, it's likely those feelings only grew stronger.
Loser: The Sacked Coaches
When a team wins, everyone takes credit – players, trainers, fans, and even sponsors. But when a team loses, the blame usually falls on the shoulders of one specific person: the coach. And that means that after a loss, it's not just the team that's out – it mean the coach is out as well. After their teams' early exits, Italy's Cesare Prandelli, Nigeria's Stephen Keshi, and Ivory Coast's Sabri Lamouchi resigned from their positions. At least they had the dignity of resigning: after Brazil's humiliation in both the semifinals and the third place match, the country's football confederation fired coach Luiz Felipe Scolari.
Winner & Loser: Luis Suarez

Obviously Luis Suarez comes out of the World Cup as a loser after his infamous bite earned him a four-month suspension from FIFA and the ire of fans around the world. But is he a winner as well? A couple of week removed from the incident, though, and Suarez is moving on in a big way: Suarez apparently used the publicity from the bite incident as leverage to leave Liverpool for Barcelona, saying that "playing and living in Spain, where my wife's family live, is a lifelong dream and ambition." Maybe the bite worked out for the best after all.
Loser: Small Sporting Companies
With Adidas as one of our winners, one would assume that Nike would be a World Cup loser. But it's not Nike that's the loser, or for that matter Puma (the other major World Cup team sponsor). No, the losers here are the small sporting companies. Of the 32 teams in the Cup this year, only five were sponsored by companies other than Nike, Adidas, or Puma: Belgium, Costa Rica, Ecuador, Honduras, and Iran. And small companies that were sponsoring teams are being abandoned for the so-called "big three" – Le Coq Sportif, which sponsored the French national team for years, was dropped in favor of Nike;
Winner & Loser: Axelle Despiegelaere

You may not know her name, but if you've been watching the World Cup, you may have seen her face. Axelle Despiegelaere was cheering on Team Belgium in their match against Russia when a photographer caught her face in the crowd. Within hours, her image had gone viral, and within days, she had been offered a modeling contract from L'Oreal. But less than a week later, her contract was cancelled after photos emerged of her hunting wild game in Africa. It just goes to show that not all the winners and losers of the World Cup were on the field – some were in the stands as well.