As Germany and Argentina prepare for their World Cup final match on Sunday, they might want to work on their lifting and kissing as well as their passing and shooting.
In the past 40 years, 10 teams from six different countries have won the World Cup. But they all have one thing in common: lifting the Cup triumphantly above their heads, and kissing the Cup in celebration of their achievement. Scroll below to see 40 years of players lifting and loving the World Cup:
2010: Spain

Spain defeated the Netherlands 1-0, earning the country's first World Cup.
2006: Italy

Despite a head-butt from France's Zinedine Zidane, Italy prevailed 5-3 on penalty kicks to win.
2002: Brazil

Brazil bested Germany 2-0 and took home their fifth World Cup, held in the air in this photo by Brazil's Rivaldo.
1998: France

France beat powerhouse Brazil 3-0 for their first (and to date only) World Cup. Pictured here are Zinedine Zidane, Marcel Desailly and Laurent Blanc.
1994: Brazil

Brazil forward Romario can barely contain his emotions as he kisses the Cup following his team's close win over Italy on penalties 3-2.
1990: West Germany

In a rematch of the 1986 World Cup, Germany would get revenge on Argentina with a 1-0 victory.
1986: Argentina

Diego Maradona holds the trophy aloft as he and his teammates celebrate a 3-2 win over West Germany.
1982: Italy

Italy beat West Germany 3-1 to take home the Cup.
1978: Argentina

Despite a 1-1 tie after 90 minutes, after scoring two goals in extra time, Argentina would win 3-1 against the Netherlands.
1974: West Germany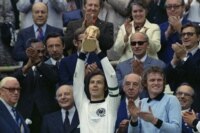 Franz Beckenbauer hoists the Cup after West Germany beat the Netherlands 2-1 at the Olympic Stadium in Munich.