here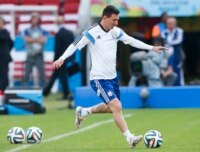 UPDATE: A pair of goals each from Lionel Messi and Ahmed Mura – at the start and end of the first half – kept Argentina and Nigeria even. But it was a goal by Argentina's Marcos Rojo in the 50th minute of the match that gave Argentina the 3-2, and the top spot in Group E. Although they lost, Nigeria also advanced to the knockout round.
Previous post:
There's no doubt that Argentina will advance to the Round of 16 – with a 2-0-0 record, they're on top of Group E. And it's likely Nigeria will advance as well – there's only one very unlikely scenario where Iran could overtake them. But what's uncertain is who will emerge as the top team from Group E: if Argentina wins or draws, they'll claim the group's top spot. But if Nigeria can beat Argentina, they'd be first, and Argentina would be second (but would still advance). The match starts at 12 PM ET (4 PM UTC).
For play-by-play, minute-by-minute coverage of every ball touch, throw-in, direct kick, indirect kick, yellow card, red card, corner kick, goal kick and every other possible football feat in every World Cup match, tap into VOA's multilingual, multinational analysis.
Click here to follow the action live, or follow along on Facebook, or on Twitter with #WorldCupVOA.
And for even more exclusive VOA coverage with a special focus on Africa's national teams, check out VOA's Francophone blog.