here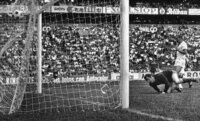 UPDATE: Just as they did 28 years ago, Belgium comes away with a victory, but without any extra time. The Belgians beat Russia 1-0, and secured themselves a spot in the Round 0f 16.
Previous post:
One of the most memorable World Cup matches was in 1986, when Belgium and the Soviet Union played to a 2-2 tie at the end of regulation, before a flurry of goals gave Belgium a 4-3 win in extra time. This year, Belgium and Russia play in their second group matches. With the history between their teams, this is likely to be a competitive match. Play starts at 12 PM ET (4 PM UTC).
For play-by-play, minute-by-minute coverage of every ball touch, throw-in, direct kick, indirect kick, yellow card, red card, corner kick, goal kick and every other possible football feat in every World Cup match, tap into VOA's multilingual, multinational analysis.
Click here to follow the action live, or follow along on Facebook, or on Twitter with #WorldCupVOA.
And for even more exclusive VOA coverage with a special focus on Africa's national teams, check out VOA's Francophone blog.