Of the countless number of World Cup souvenirs in Brazil, the most sought-after may be one you can't buy.
Selfies – taking a picture of yourself with a smartphone – have become immensely popular worldwide. So it's no surprise that fans are coming to Brazil with cell phones in hand, hoping to get a selfie with their favorite player. And a lucky few have been able to do just that, and walk away with what may be the ultimate World Cup memento.
Brazilian President Dilma Roussef kicked off the trend with World Cup stadium construction workers:
Since then, fans have been seeking selfies with some of their favorite players – Javier Hernandez of Mexico:
Brazil's Neymar:
Ecuador's Jorge Guagua:
Italy's Mario Balotelli: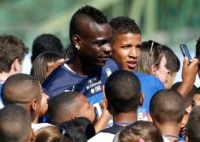 Italy's Gianluigi Buffon and Daniele De Rossi:
But it's not just the players that are getting attention from fans – coaches, like Netherlands' Louis Van Gaal, are too:
And even the players can get starstruck, resulting in a memorable photo. Take Germany's Lukas Podolski, who was able to snag a selfie with German Chancellor Angela Merkel after Germany's 4-0 rout of Portugal:
But the prize for best football selfie has to go to Team Mexico. Not only did they get a selfie with Mexican President Enrique Peña Nieto…
…they were able to fit the entire team into the photo!