here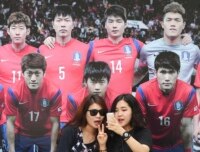 UPDATE: In the second tie of the day, Russia and Korea came out of their match with a score of 1-1.
Previous post:
In the final match of the first round of the 2014 World Cup, Russia takes on the Republic of Korea. This looks to be a close match: Korea has won its last three opening round World Cup matches, but only won two of their last 10. Russia has only had one shutout in their last six World Cup matches, but also also holds the record of most goals by a single player in a World Cup match (Oleg Salenko scored five goals against Cameroon in 1994; Russia won that match 6-1). The match kicks off at 6 PM ET (10 PM UTC).
For play-by-play, minute-by-minute coverage of every ball touch, throw-in, direct kick, indirect kick, yellow card, red card, corner kick, goal kick and every other possible football feat in every World Cup match, tap into VOA's multilingual, multinational analysis.
Click here to follow the action live, or follow along on Facebook, or on Twitter with #WorldCupVOA.
And for even more exclusive VOA coverage with a special focus on Africa's national teams, check out VOA's Francophone blog.